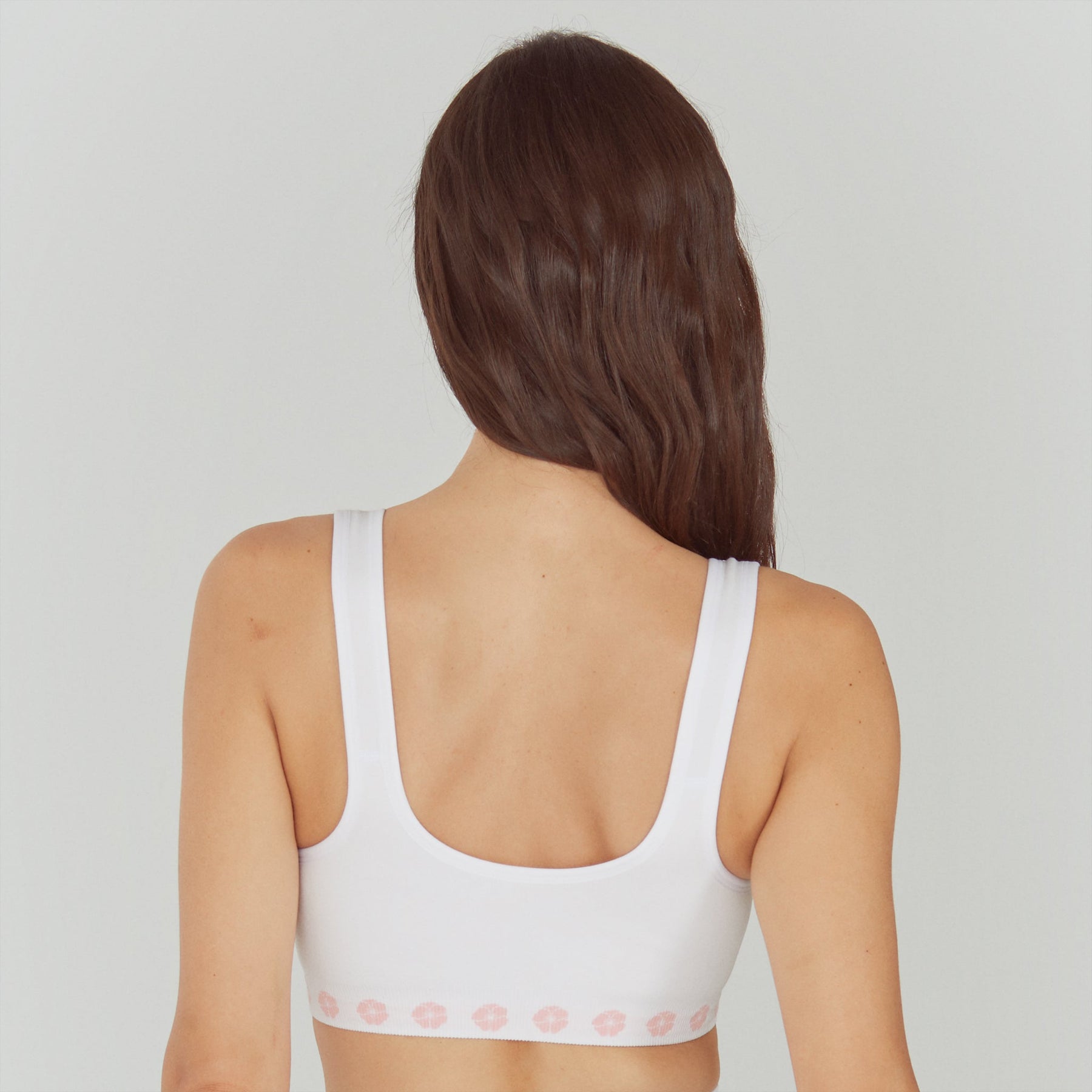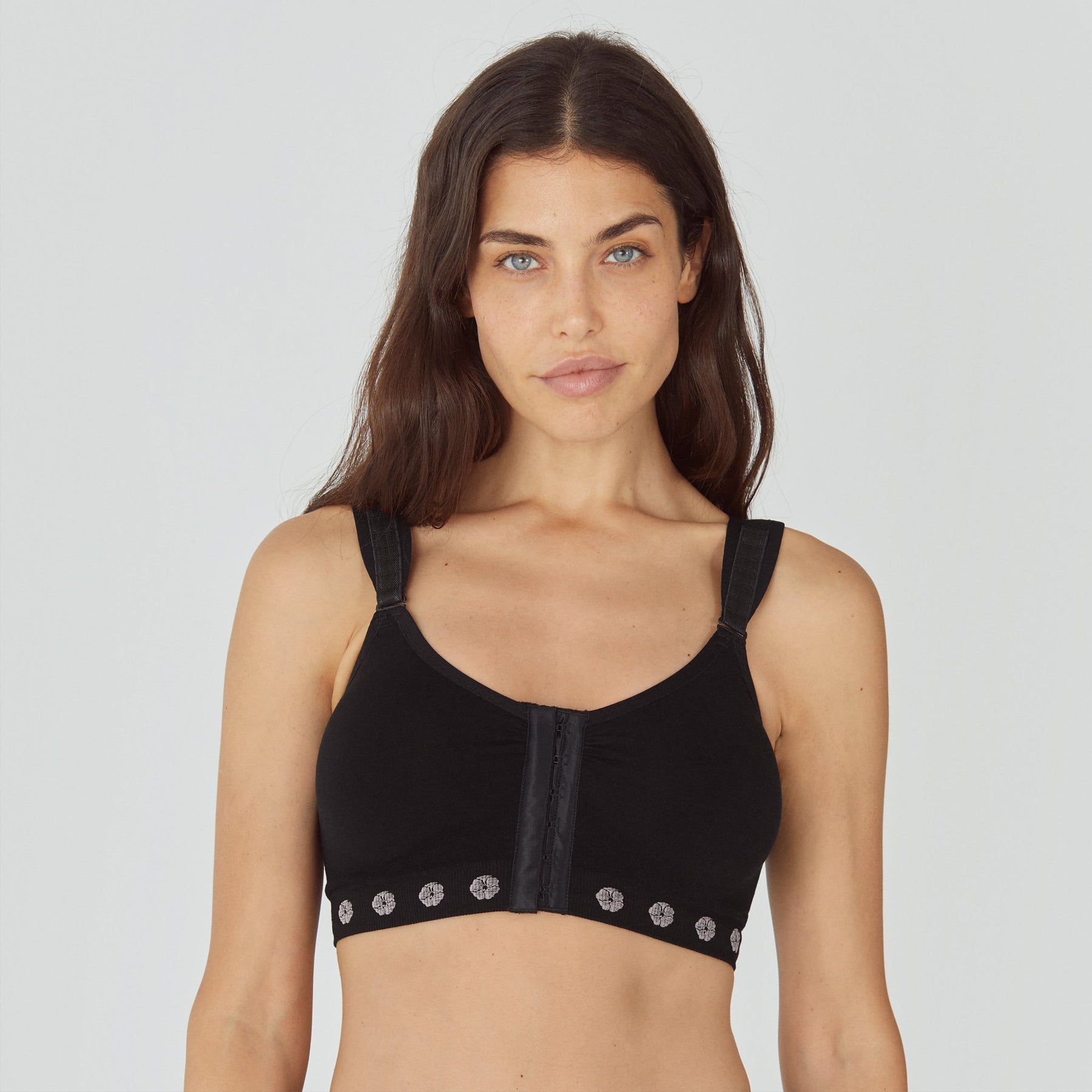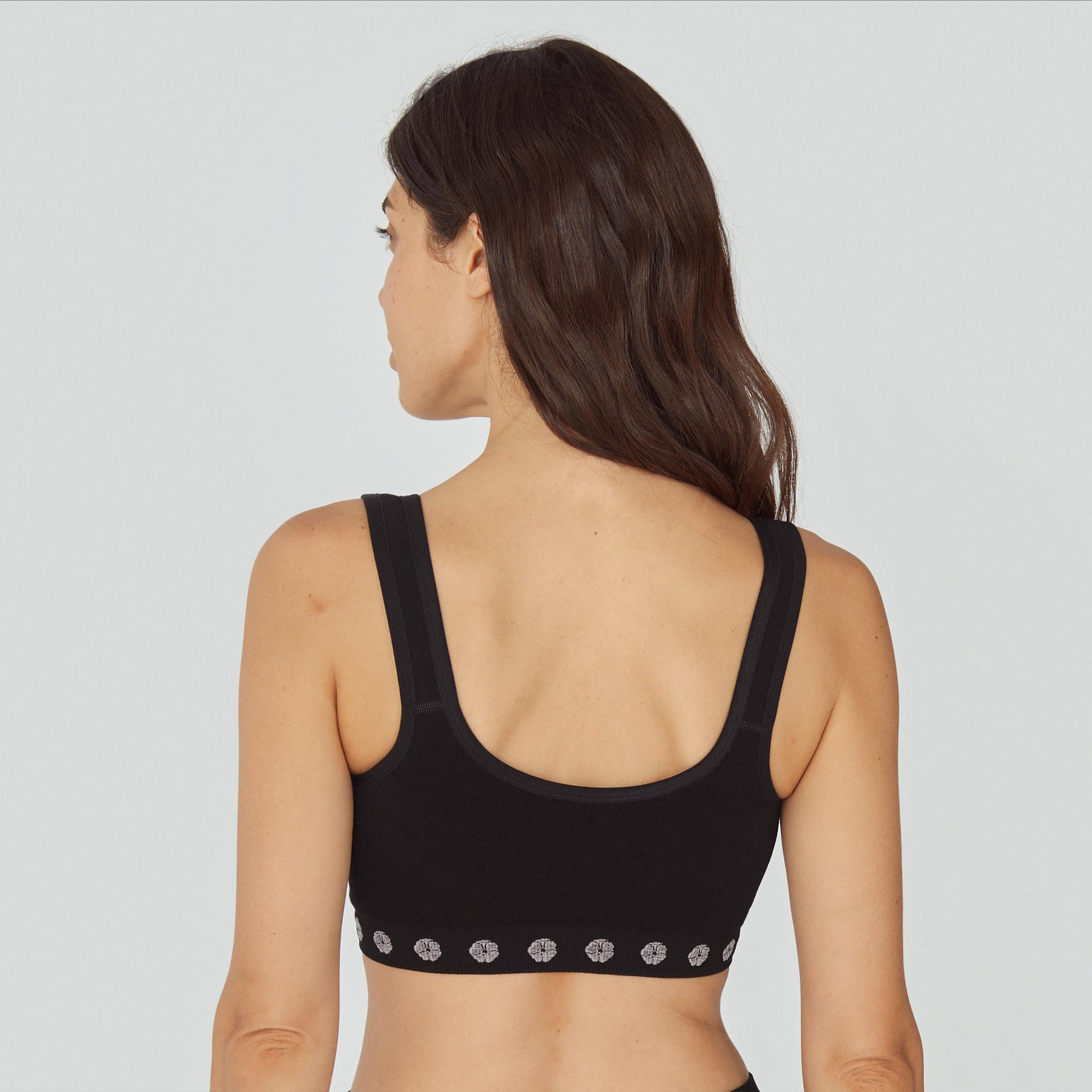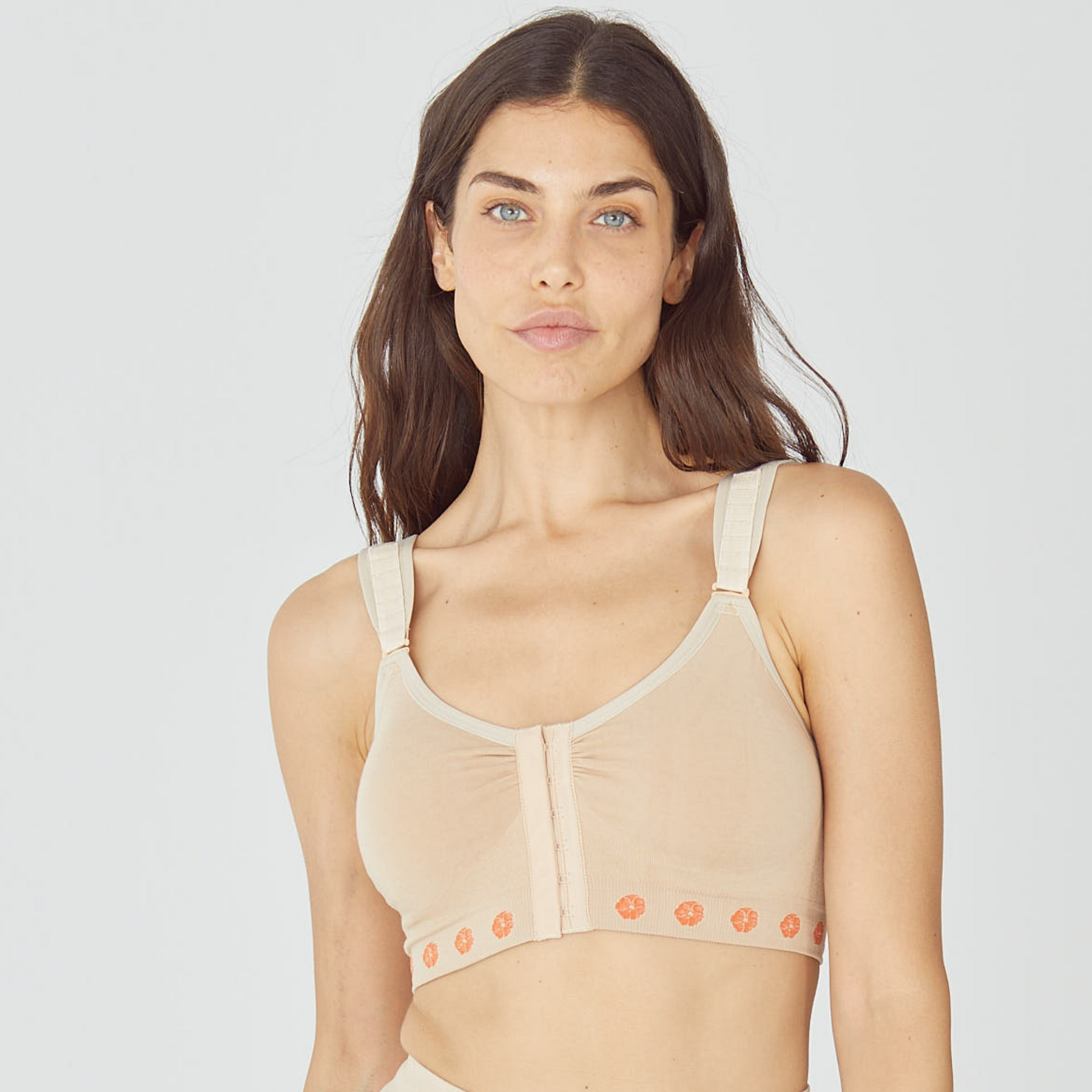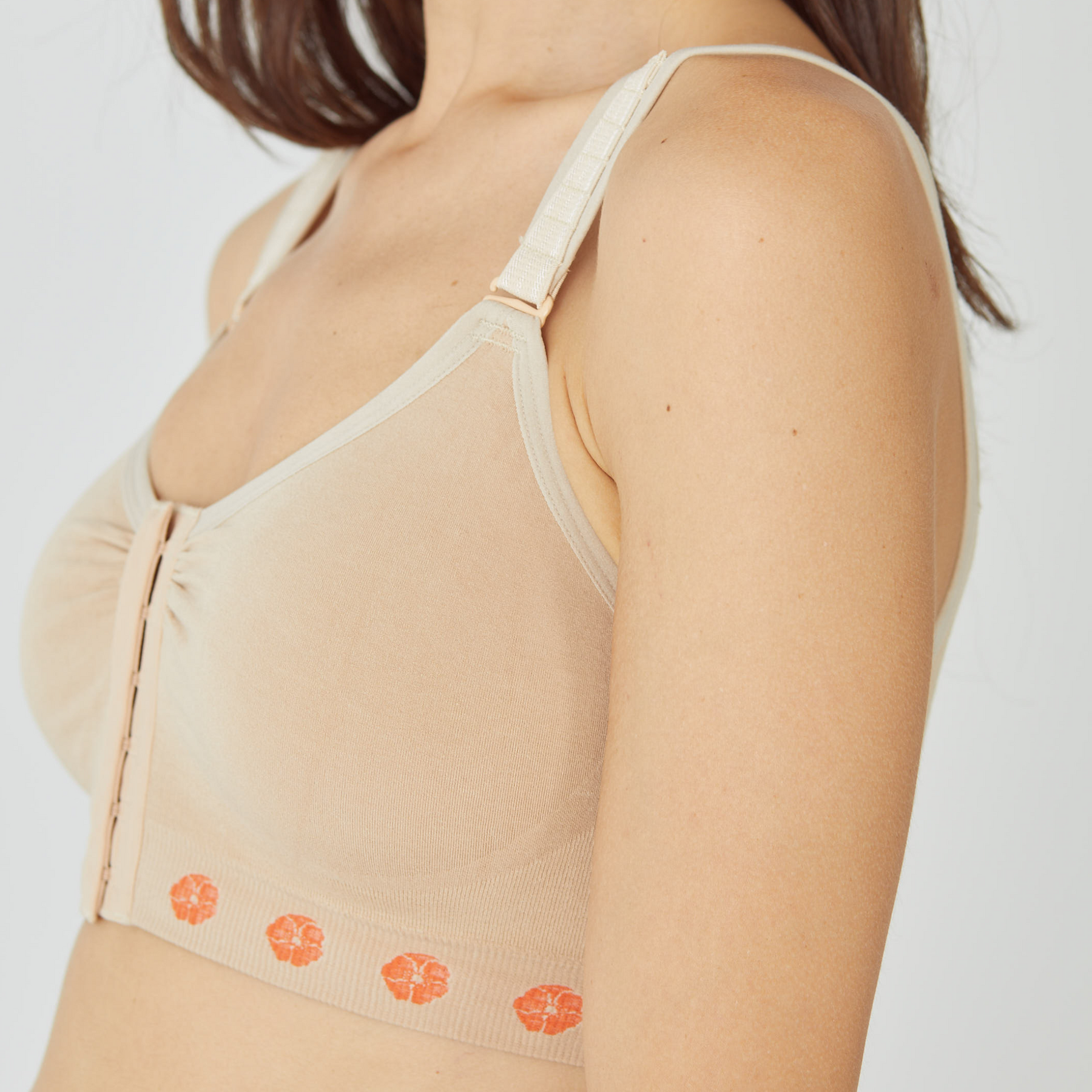 Peony Hook & Eye | Post Surgery Bra
The post-op bra to carry you and your breasts through recovery. Whether it's augmentation, enhancement, or reduction, your boobs will need some extra tlc after any procedure, and so will you. You need more than just a post-surgery bra; you need a bra that will help you heal and feel amazing long after recovery.

Luxuriously soft bamboo fabric, actually proven to help you heal faster, no-really.
Front fastening. Gone are the days of awkwardly trying to undress.
Three-level hook & eye closure, to achieve the perfect fit.
Multi-level front strap adjustment for compression control and adaptability to your unique shape.
No seams, no wires, and no tags (good riddance).
A wide, stretch band that stays put and won't roll up.
Includes removable inserts to provide protective padding if needed.
Designed with you in mind - so makes the perfect sleep bra.
70% bamboo viscose, 23% nylon, 6% elastane, 1% polyester.
Be gentle with me, I like a warm machine wash on a gentle cycle with similar colors.
Do not tumble dry, iron, bleach, or dry clean.
Remove inserted pads before machine washing

Disappointing product and service
I ordered two hook & eye bras under the kind of duress one feels after a breast cancer diagnosis. I had been told I needed front fastening bras post surgery & after some research, including watching a video of how to choose the right size, made an order worth €110. I did not read the Terms & Conditions which was an error. When the bras arrived there wasn't a chance my F Cup was going to fit. I couldn't see how to return them. When I contacted Theya Healthcare I was told there was a NO REFUND policy. What?? In 20
Years of shopping on line I had never heard of this. A couple of perfunctory emails later I was no wiser how to return the bras or even how to obtain a credit note. So I sent them back (£16) to Dublin. The parcel was returned to me by Irish Customs today. I'm now stuck with 2 expensive bras I can't wear & don't want a replacement for as they are clearly made for smaller cup sizes & the style looked terrible on me. Bad enough facing surgery - I didn't need this as well as disinterested service from Theya. I remain non the wiser as to what to do next. Except give the bras as a donation to the Cancer Support Centre at the hospital where I am being treated. I will never buy from Theya Healthcare again or recommend their products to anyone else.
Post Surgery Bra
I had breast surgery yesterday and my new bra is so comfortable and feels wonderful, even overnight. The nurse at the hospital helped me get dressed and was very impressed with it too. Excellent choice and perfect fit, thank you
Hello Jane,
Thank you for such lovely feedback. Wishing you a speedy recovery, and thanks again for your custom. Mel & Theya Team :)
Peony hook & eye bra, Peony front zip post surgery bras
I got one of each. I am very pleased with both of them. They are very comfortable even when wearing at night. I would certainly recommend them. I know they are a little pricey but I feel they are worth it.
Thank you for your lovely feedback and your valued custom. Theya Team :)
Excellent
Totally comfortable, easy on and off and feels soft and very easy to wear. Overall excellent
Thank you so much for the lovely feedback and for your custom, Theya Team :)
Hook & EYE Front Post Surgery bra
Proven to Accelerate Recovery
• Reduces breast pain after surgery
• Better than pure cotton. 59% more absorbent than cotton, 19% more moisture-wicking, and twice as breathable. 
• Highly antibacterial. Tested up to 97% resistant to the most common bacteria found in breast wounds.
better for you
Sustainable Bamboo Fabric
We use only the highest quality bamboo fabric. All our products are made with OEKO-TEX STANDARD 100 bamboo mix fabric, adhering to the highest standards of quality & care.
Science with Empathy
Learn more about our fabric testing study, clinical trials with breast cancer patients, and how our products helped their recovery.